Used regularly, a hot tub offers long-term hydrotherapy benefits that can improve physical health and emotional well-being. Designed to last a decade or longer, a home spa will accompany you through the next phase of your life. Soak every morning or before bed to get the most out of your hot tub. There are always special occasions for hot-tubbing, too! Your spa is the perfect centerpiece for small family gatherings and barbecues.
"My husband and I purchased a Hot Spring hot tub about 16 years ago and used it twice a day every day for about 9-10 years. We sold our house and couldn't take it with us, now in our new house, we acquired a Hot Spring hot tub and remember why and how much we loved the one we had. We are so glad to have a hot tub again." – Hot Spring Spa Owner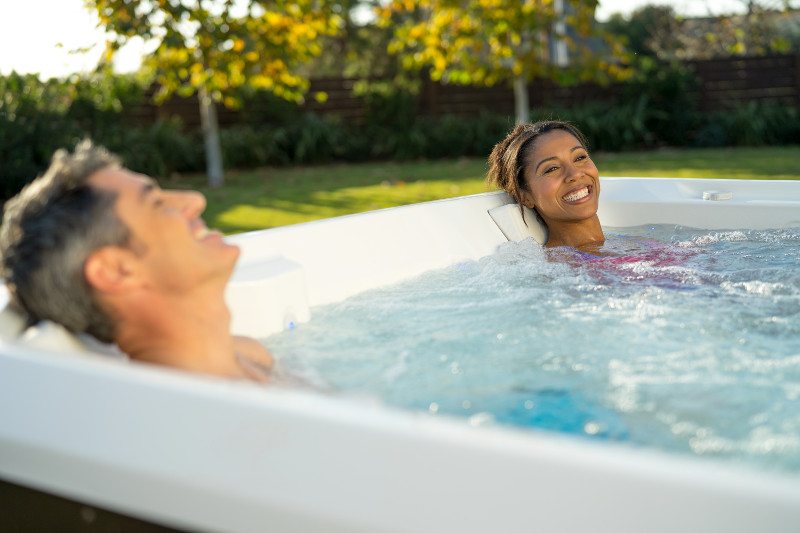 With a home spa, you can infuse your life with a daily, powerful wellness ritual. You'll find your center in your hot tub's healing water as you feel your muscles relax and stress melt away. Each day, the accumulated tensions that result from life's demands will dissolve into the water and your sense of vitality, balance, and place in the world will be affirmed.
"Best money we've ever spent! Our only regret is not making this purchase years ago. It does wonders for my wife's stress and my arthritis. Get a Hot Spring today and you will be 100% happier in mind, body, and soul!" – Hot Spring Spa Owner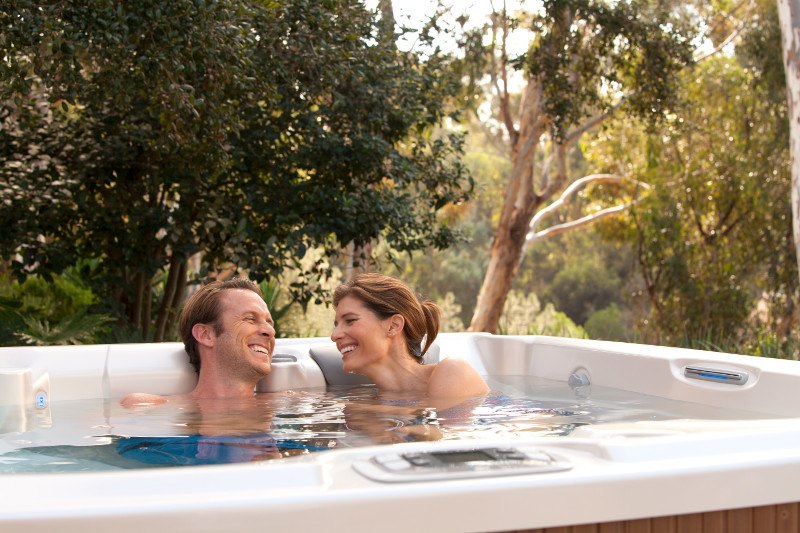 HYDROTHERAPY HOT TUB BENEFITS
The physical wellness benefits of hot tub hydrotherapy are delivered through heat, buoyancy, and jet massage:
Heat increases circulation by dilating blood vessels.

Buoyancy relieves joint stress by reducing your weight by 90 percent.
Jet massage soothes away tension.
These elements work together to provide health benefits that can ultimately allow you to lead a more active and fulfilled life.
THE THREE BE'S OF HOT TUB HAPPINESS
Using a hot tub regularly will help improve your mood and mental well-being. How? Here are the three "be's" of hot tub happiness:
When you spend time with loved ones immersed in warm water, something magical happens. Your hot tub becomes a safe place where everyone can relax, let their guard down, and truly open up. In the distraction-free zone of your spa, you'll enjoy meaningful conversations and special moments with the people you care about most. As a result, relationships can grow stronger.
"… The benefit of bringing our family together without apprehension has surpassed our dreams."
Hot Spring Spa Owner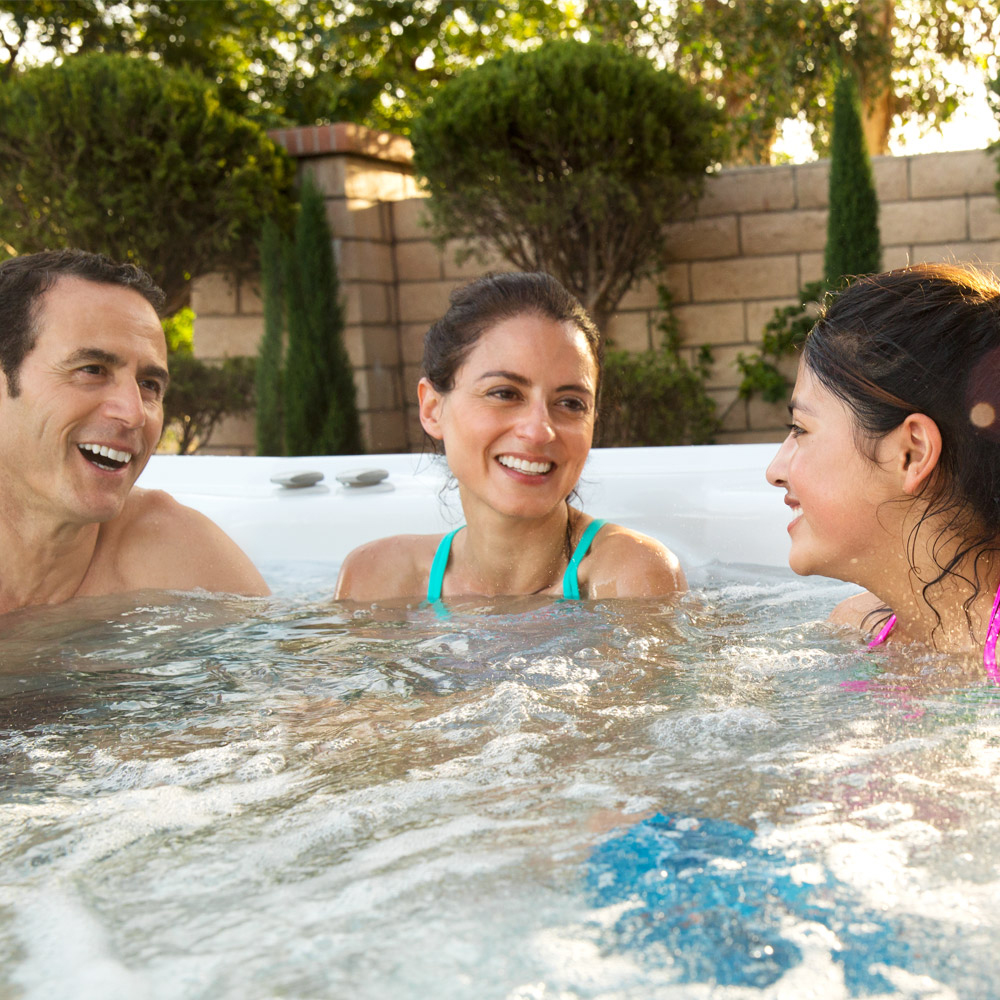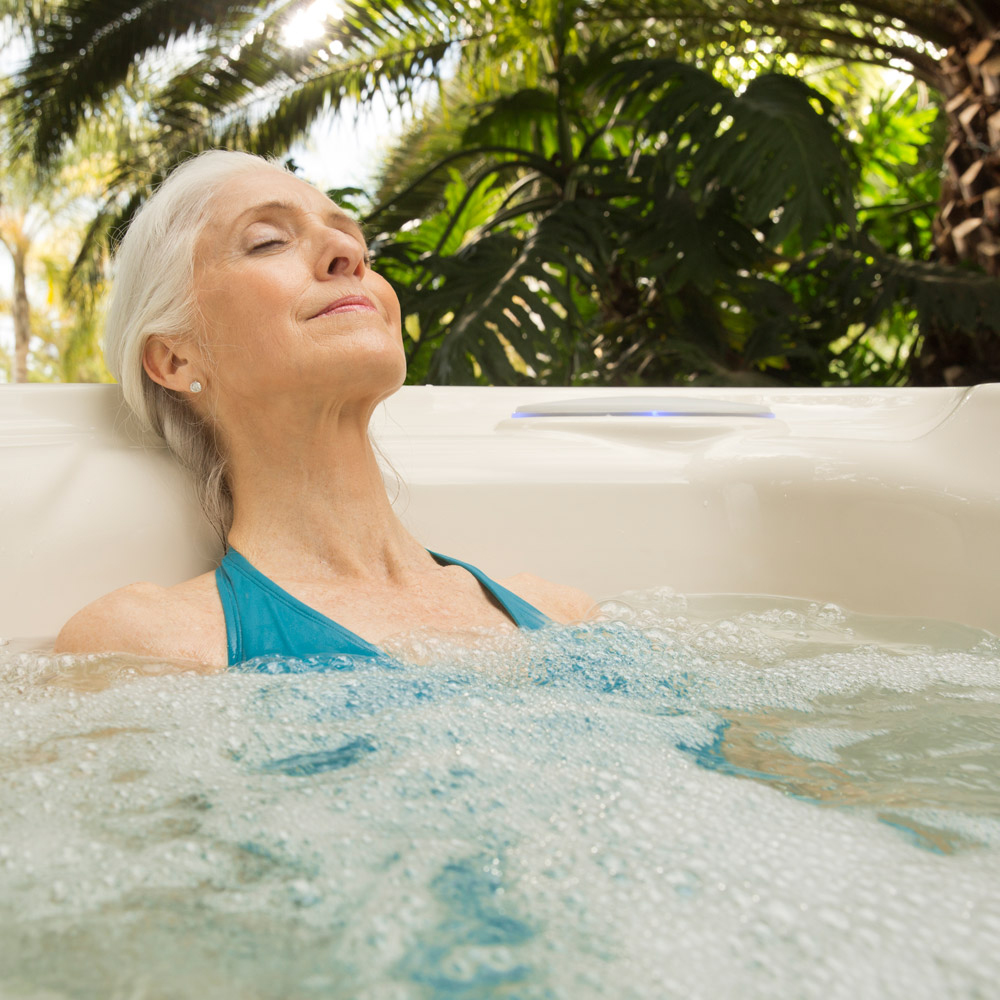 Be your very best every day by making spa wellness a focus of your life. Experience physical benefits, including stress and sore muscle relief, as well as emotional benefits. With daily warm-water soaks, you can disconnect, decompress, and emerge from your spa renewed. It's easy to make yourself a priority when you own a home spa.
"Every morning after an hour soak in the tub I feel refreshed and invigorated."
Hot Spring Spa Owner
Pause to appreciate golden sunrises, changing autumn leaves, falling snow, star-filled night skies, and so much more. From a spa, you can take in all of nature's beauty, which is often taken for granted. In those moments, you'll gain perspective and reconnect with what really matters. With a home hot tub, your private retreat is always just steps away.
"Relaxing in the afternoon sun, or viewing the stars in the evening, I have been thrilled with this spa."
Hot Spring Spa Owner